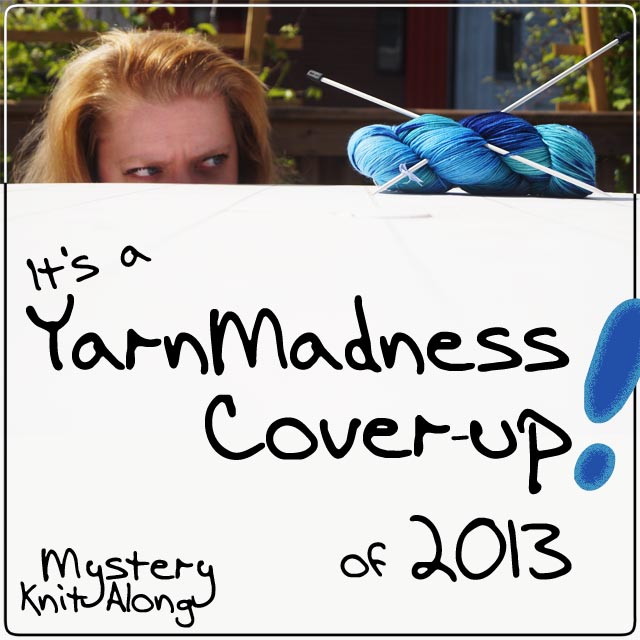 Something I was working on turned on an impulse into a mystery knit-along! Yep, you're reading it right! Yarn-Madness will have it's very first KAL, and a mystery one at that.
And this one is not about a shawl or a pair of socks, no… It's a Yarn-Madness cover-up!
The pattern will be free to download with the code "cover-up" until the first clue is published on July 1st.
Head over to the Ravelry page to check it out, and to download the setup instructions.
Not on Ravelry?  No worries! Visit this page for info and download!
I'm excited and nervous at the same time to do a mystery KAL, and I hope many of you will be joining me! Don't hesitate to share info about this on your own blog or to your fellow knitter friends!
***
Någonting jag har pysslat med blev på en impuls förvandlad till en mysterie-stickning! Jajamen, du läser rätt!
Yarn-Madness kommer ha sin egen första KAL, och en mysterie-KAL dessutom.
Och denna handlar inte om en sjal eller ett par sockor, icke… Det är en Yarn-Madness cover-up!
Möntret kommer vara gratis att ladda ner med koden "cover-up" tills den första ledtråden blir publicerad den 1a Juli. All information kommer självklart även att finnas på svenska!
Kika över till Ravelry-sidan för att kolla in, och för att ladda ner start-instruktionen.
Inte med på Ravelry? Inga problem! Kika på denna sidan för information och nerladdning.
Det är spännande och nervöst på samma gång att hålla i en mysteriestickning, och jag hoppas att många av er vill vara med! Dra dig  inte för att dela detta på din blogg eller med dina stickande vänner!